"I find it fascinating that custom lutherie is largely a cottage industry with artisans working in small shops in their basements, garages or garden sheds creating absolutely amazing instruments that far surpass most manufactured ones. What a great thing to be involved in..." ~ Tim [guitar makers forum member on 3-7-2014]
Hand Crafted Ukuleles
Ebi Ukuleles is Howard Replogle - hand builder of exceptional ukuleles and other stringed instruments in the Pacific Northwest.
Welcome to my website.
I'm a one-man shop and I made this website to showcase my work and to connect with musicians and other luthiers. My passion is in the making of instruments, but it's important to find homes for them as well; a place where they will be played and heard and seen; a place where they can reach their potential.
My work isn't well known, I live out in the country, and marketing. . . not so much. This website and ARTrails is about it. But I've never heard better sounding ukuleles. They're a pleasure to play, and most people find them beautiful to look at. So if you're shopping, please have a look at my gallery.
This and the other sepia photos on this website by Sue Bednarz.
"Ebi" (èh-bee) is Japanese for 'shrimp.'
Why the name "Ebi?" Ukuleles are small like shrimp and "Ebi" sounds more fun than "Replogle."
Here's a sound sample.
Each of my instruments is unique so they all sound different. This particular example is of Kimo Hussey demonstrating my Tenor Ukulele #8 at the Guild of American Luthiers Convention on July 26, 2014. It was a big auditorium with excellent acoustics and a small audience. There was no amplification and it was recorded on a cell phone, but you can still hear the exceptional tone.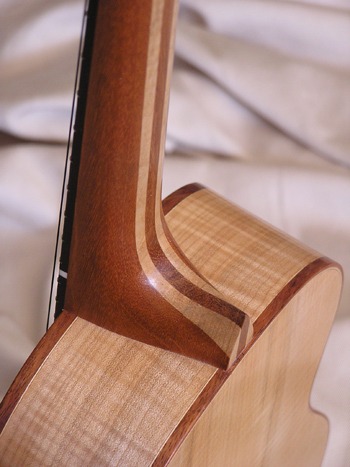 Lead time for orders.
Most instruments take me about two months to build but there's always something on my bench that will need to be finished before I have room for a new project. Please use the Contact Tab for inquiries on custom instruments, or the Gallery Tab to see available, ready made instruments.
Pictured here is Tenor Ukulele #12. See more of it in the Gallery.
Especially for Students of Lutherie
Due to popular demand, I am now doing some lutherie teaching. Please see my Instruction page for more information.
Enjoy my website and please "like" ebi ukuleles on Facebook!
Thanks for reading! - Howard Replogle